Mystery Lovers Book Club at Portage Public Library meets monthly to discuss current and classic mystery stories! We have read a plethora of authors (we try to find a new one every time!) and are always on the prowl for a good mystery story we haven't read, yet.
Read, enjoy, and discuss a good mystery with a group of great people! Meets the second Tuesday of each month from 1:30-2:30 PM. No registration required. Just read the book and show up!
Books are available on the Holds shelf. 
Books we will be discussing for 2023:
Image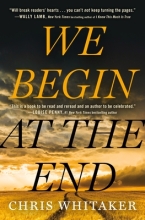 Jan. 10, 2023  We Begin at the End by Chris Whitaker
SUMMARY (from goodreads.com)
There are two kinds of families: the ones we are born into and the ones we create.

Walk has never left the coastal California town where he grew up. He may have become the chief of police, but he's still trying to heal the old wound of having given the testimony that sent his best friend, Vincent King, to prison decades before. Now, thirty years later, Vincent is being released.

Duchess is a thirteen-year-old self-proclaimed outlaw. Her mother, Star, grew up with Walk and Vincent. Walk is in overdrive trying to protect them, but Vincent and Star seem bent on sliding deeper into self-destruction. Star always burned bright, but recently that light has dimmed, leaving Duchess to parent not only her mother but her five-year-old brother. At school the other kids make fun of Duchess―her clothes are torn, her hair a mess. But let them throw their sticks, because she'll throw stones. Rules are for other people. She's just trying to survive and keep her family together.

A fortysomething-year-old sheriff and a thirteen-year-old girl may not seem to have a lot in common. But they both have come to expect that people will disappoint you, loved ones will leave you, and if you open your heart it will be broken. So when trouble arrives with Vincent King, Walk and Duchess find they will be unable to do anything but usher it in, arms wide closed.

Chris Whitaker has written an extraordinary novel about people who deserve so much more than life serves them. At times devastating, with flashes of humor and hope throughout, it is ultimately an inspiring tale of how the human spirit prevails and how, in the end, love―in all its different guises―wins.
Image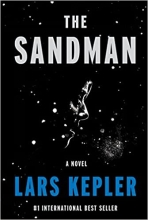 Feb. 14, 2023  The Sandman by Lars Kepler
SUMMARY (from goodreads.com)
Late one night, outside Stockholm, Mikael Kohler-Frost is found wandering. Thirteen years earlier, he went missing along with his younger sister. They were long thought to have been victims of Sweden's most notorious serial killer, Jurek Walter, now serving a life sentence in a maximum security psychiatric hospital. Now Mikael tells the police that his sister is still alive and being held by someone he knows only as the Sandman.

Years ago, Detective Inspector Joona Linna made an excruciating personal sacrifice to ensure Jurek's capture. He is keenly aware of what this killer is capable of, and now he is certain that Jurek has an accomplice. He knows that any chance of rescuing Mikael's sister depends on getting Jurek to talk, and that the only agent capable of this is Inspector Saga Bauer, a twenty-seven-year-old prodigy. She will have to go under deep cover in the psychiatric ward where Jurek is imprisoned, and she will have to find a way to get to the psychopath before it's too late--and before he gets inside her head.
Image
March 14, 2023  The Plot by Jean Korelitz
SUMMARY (from goodreads.com)
Jacob Finch Bonner was once a promising young novelist with a respectably published first book. Today, he's teaching in a third-rate MFA program and struggling to maintain what's left of his self-respect; he hasn't written—let alone published—anything decent in years. When Evan Parker, his most arrogant student, announces he doesn't need Jake's help because the plot of his book in progress is a sure thing, Jake is prepared to dismiss the boast as typical amateur narcissism. But then . . . he hears the plot.

Jake returns to the downward trajectory of his own career and braces himself for the supernova publication of Evan Parker's first novel: but it never comes. When he discovers that his former student has died, presumably without ever completing his book, Jake does what any self-respecting writer would do with a story like that—a story that absolutely needs to be told.

In a few short years, all of Evan Parker's predictions have come true, but Jake is the author enjoying the wave. He is wealthy, famous, praised and read all over the world. But at the height of his glorious new life, an e-mail arrives, the first salvo in a terrifying, anonymous campaign: You are a thief, it says.

As Jake struggles to understand his antagonist and hide the truth from his readers and his publishers, he begins to learn more about his late student, and what he discovers both amazes and terrifies him. Who was Evan Parker, and how did he get the idea for his "sure thing" of a novel? What is the real story behind the plot, and who stole it from whom?
Questions?
Contact our Library Assistant - Public Services, Gloria Johntel. You can e-mail gloria [at] portagelibrary.us, or call her 608-742-4959 ext. 206.