Read, enjoy, and discuss a great mystery with a group of people! Meets the second Tuesday of each month from 1:30-2:30 PM.
Books we will be discussing...
Image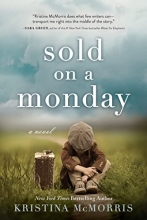 Sept. 13  Sold on a Monday by Kristina McMorris
SUMMARY (from Amazon.com)
2 CHILDREN FOR SALE. The sign is a last resort. It sits on a farmhouse porch in 1931, but could be found anywhere in an era of breadlines, bank runs and broken dreams. It could have been written by any mother facing impossible choices.
For struggling reporter Ellis Reed, the gut-wrenching scene evokes memories of his family's dark past. He snaps a photograph of the children, not meant for publication. But when it leads to his big break, the consequences are more devastating than he ever imagined.
Inspired by an actual newspaper photograph that stunned the nation, Sold on a Monday has celebrated five months on the New York Times bestsellers list and continues to especially captivate fans of Lisa Wingate's Before We Were Yours and Kristin Hannah's The Four Winds.
Image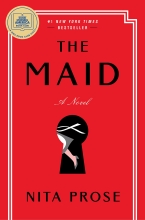 Oct. 11  The Maid: A Novel by Nita Prose
SUMMARY (from Amazon.com)
Molly Gray is not like everyone else. She struggles with social skills and misreads the intentions of others. Her gran used to interpret the world for her, codifying it into simple rules that Molly could live by.

Since Gran died a few months ago, twenty-five-year-old Molly has been navigating life's complexities all by herself. No matter—she throws herself with gusto into her work as a hotel maid. Her unique character, along with her obsessive love of cleaning and proper etiquette, make her an ideal fit for the job. She delights in donning her crisp uniform each morning, stocking her cart with miniature soaps and bottles, and returning guest rooms at the Regency Grand Hotel to a state of perfection.

But Molly's orderly life is upended the day she enters the suite of the infamous and wealthy Charles Black, only to find it in a state of disarray and Mr. Black himself dead in his bed. Before she knows what's happening, Molly's unusual demeanor has the police targeting her as their lead suspect. She quickly finds herself caught in a web of deception, one she has no idea how to untangle. Fortunately for Molly, friends she never knew she had unite with her in a search for clues to what really happened to Mr. Black—but will they be able to find the real killer before it's too late?

A Clue-like, locked-room mystery and a heartwarming journey of the spirit, The Maid explores what it means to be the same as everyone else and yet entirely different—and reveals that all mysteries can be solved through connection to the human heart.
Image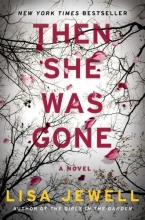 Nov. 8  Then She Was Gone by Lisa Jewell
SUMMARY (from Amazon.com)
Ellie Mack was the perfect daughter. She was fifteen, the youngest of three. Beloved by her parents, friends, and teachers, and half of a teenaged golden couple. Ellie was days away from an idyllic post-exams summer vacation, with her whole life ahead of her.

And then she was gone.

Now, her mother Laurel Mack is trying to put her life back together. It's been ten years since her daughter disappeared, seven years since her marriage ended, and only months since the last clue in Ellie's case was unearthed. So when she meets an unexpectedly charming man in a café, no one is more surprised than Laurel at how quickly their flirtation develops into something deeper. Before she knows it, she's meeting Floyd's daughters—and his youngest, Poppy, takes Laurel's breath away.

Because looking at Poppy is like looking at Ellie. And now, the unanswered questions she's tried so hard to put to rest begin to haunt Laurel anew. Where did Ellie go? Did she really run away from home, as the police have long suspected, or was there a more sinister reason for her disappearance? Who is Floyd, really? And why does his daughter remind Laurel so viscerally of her own missing girl?
Questions?
Contact our Library Assistant - Public Services, Gloria Johntel. You can e-mail gloria [at] portagelibrary.us, or call her 608-742-4959 ext. 206.